Enjoy Quality and Style with Wood-Look Tile in Longmont, CO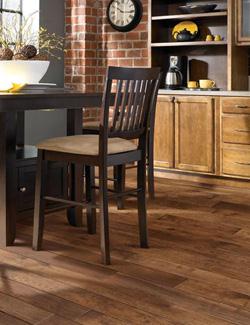 When you're ready to upgrade the look, value, and comfort of your home, why not upgrade your flooring with our wood-look tile in Longmont, CO? Carpet Wise carries a wide selection of porcelain and ceramic wood tile suitable for every room in your house. Whether you're looking for the elegant look of wood in your dining room or easy maintenance and water resistance for the bathroom, we carry a style suitable for every need. Stop by our showroom today to take a look at our selection and schedule flooring installation with a skilled contractor.
Benefits of Ceramic Wood Tile Flooring
Everyone loves the look of hardwood flooring. It's a classic, natural, and elegant style suitable for any interior design scheme. Unfortunately, for many homeowners hardwood isn't a viable choice because it's prone to damage from humidity and liquid spills. In areas where hardwood isn't a good option, many homeowners choose ceramic or porcelain wood tile. This durable and stylish flooring material is made with various water-resistant materials but looks just like wood. When you're looking for great style and long-lasting materials, choose wood grain tile for all of its benefits including:
Look of Hardwood Flooring
Water and Stain Resistant
Perfect for Outdoor Spaces
Lasts for Many Long Years
Variety of Stylish Patterns
Stands Up to Pets and Children
Cost-Efficiency
Easy Maintenance
How to Properly Maintain Your Wood-Look Flooring
One of the greatest benefits of wood plank tile flooring is that it's much easier to maintain than natural hardwood floors. Unlike true wood, wood-look tile never has to be sanded or resurfaced, doesn't absorb spills or stains, and is simple to clean. If you do spill something on your new wood tile floors, just wipe it up as soon as possible with a wet towel. Mopping your floors periodically with a mild, tile-safe detergent and microfiber mop can keep it looking fresh and new.
In order to protect your new flooring investment, be sure to schedule professional installation services with our team. We make sure to properly remove your old floors and install the new ones, so they're sure to last for many years.

Contact us to discuss your needs or schedule flooring installation with our skilled team. We proudly serve clients throughout Longmont, Colorado, and the surrounding areas.