Resilient & Beautiful Luxury Vinyl
Luxury Vinyl Flooring in Longmont, CO
When you are looking for luxury vinyl flooring, then Carpet Wise is your one-stop shop. We offer a variety of luxury vinyl surfaces, including vinyl tile and planks. By providing so many types of flooring, our store is sure to have the solution you need for your next floor renovation project. Visit our showroom to explore our collection and let our team help you find the flooring that will work perfectly in your home or business.
All are welcome to visit our showroom in Longmont, CO, to speak to our team members about your vision. Our expert team will help you make your remodel easy and enjoyable. We offer a full range of services, from product selection to home measurements and material ordering. After you purchase your new luxury vinyl floor, our experienced technicians are available for professional installation services. We offer low-cost flooring from a variety of high-quality manufacturers thanks to our nationwide buying power. As the area's leading floor provider, we are pleased to have partnered with top-quality brands like Downs H2O and Spotlight Values to bring you the best possible product for your home.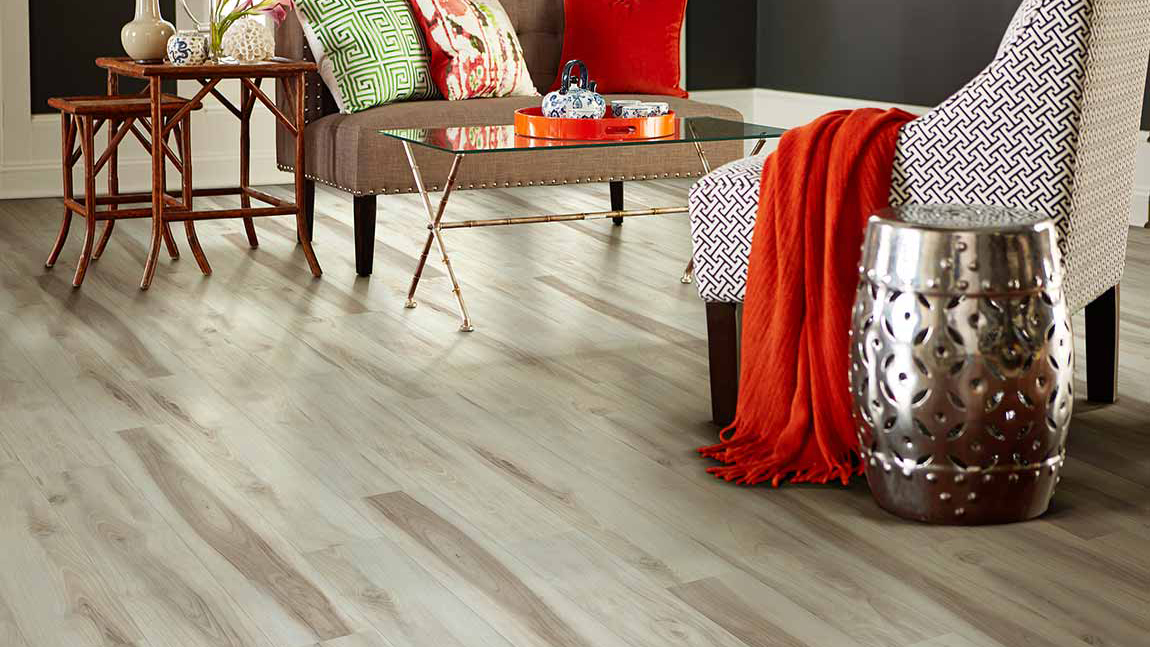 Limitless Design Potential
Whether you are looking for the warm and natural glow of wood or the rugged and rustic style of stone, a luxury vinyl floor is a perfect solution. Luxury vinyl is created in sets of durable tile or planks. Luxury vinyl flooring is thicker than conventional vinyl flooring, but all vinyl flooring is made of plastic and has the same floor layers. Thanks to this added thickness, luxury vinyl plank (LVP) and luxury vinyl tile (LVT) look incredibly realistic compared to their natural counterparts. Our extensive collection of luxury vinyl flooring has many different styles and designs for you to choose from.
Luxury Vinyl Plank
Luxury vinyl plank is one of our most popular products and is the ideal compromise for families that enjoy a hardwood floor but want more comfort and endurance. LVP has a softer feeling underfoot and can tolerate heat, spills, and foot traffic that can cause natural wood to warp. The top layer of LVP is formed through advanced photographic technology, resulting in a remarkable decorative layer that draws attention with authentic-looking whirls and grain patterns.
Luxury Vinyl Tile
Luxury vinyl tile brings charm and elegance to any home. When it comes to new floors, LVT offers a multitude of options for both residential and commercial property owners. Replicate the brilliant look of ceramic or porcelain with this comfy alternative, which is perfect for bathrooms, kitchens, and other high-moisture areas. Our LVT is made to have an uncanny resemblance to tile, with depth and texture. Easier to install than true ceramic tile, grouting is not required for LVT. While many people choose LVT for a porcelain, ceramic, or marble look, wood-look LVT is also available.
Never Fear Water Damage With Our Luxury Vinyl
We carry 100% waterproof luxury vinyl planks and tiles, which means that you can bring hardwood-look and tile-look floors to any room of your home without risking water damage. Our vinyl floors provide unmatched water resistance, which lets you add the beautiful aesthetic of natural materials to your kitchen or bathroom. The moisture resistance also helps keep your home free from mold or mildew. The durability of our luxury vinyl flooring also makes it a pet-friendly flooring option so you don't have to worry about any accidents with your cats, dogs, or other household pets.

Easy Vinyl Maintenance
Messes or spills are a breeze to clean up when you have luxury vinyl floors. Typically, any mess can be cleaned up with a simple cloth or mop, with little to no risk of stains or permanent marks. This is a great reason why this resilient flooring can be a perfect fit for your home.

You can rest assured knowing that our luxury vinyl flooring is easy to clean and will remain like-new for years to come with a weekly cleaning regimen. Weekly cleaning can be accomplished by vacuuming, sweeping, or mopping. Before purchasing or using a cleaning product that contains harsh chemicals that could damage the wear layer of your new luxury vinyl floors, we always recommend reviewing your warranty to see what products are safe to use. We are also always happy to make a product recommendation for you.
Professional Installation Services
After selecting the luxury vinyl flooring of your choice from our showroom, you will need it to be installed in your home or business. That's why at Carpet Wise, we offer complete installation services to take care of everything your new floors need. Our team is experienced and has worked with the various materials and surfaces we offer and will ensure that your luxury vinyl installation is done correctly. This way you have peace of mind that your new flooring looks as excellent in your rooms as it did in our showroom.

We're very confident in our luxury vinyl flooring installation services, and we want you to be as well. To ensure you have the peace of mind you deserve, we offer our Ultimate Confidence Guarantee to you. With this guarantee, we promise that if you ever have an installation-related issue with your new floors, we'll fix it at no extra cost to you.


Contact us to learn more about our luxury vinyl products. We proudly serve Longmont, Niwot, Frederick, Firestone, and Louisville, CO, as well as the surrounding areas.